Pre-Ordered, Pre-Paid Meal Options for NITOC 2018
Parent food will be the same as last year's NITOC. Due to the contracted food provider we are unable to provide parent judge food or student snacks. So, while other local tournaments are able to offer tantalizing tournament treats...at NITOC you'll get a nice piece of chocolate. Please consider purchasing the great deal on the week-long meal plans and also bring your own snacks!


Meals must be ordered and paid for by May 15, 2018.
Meals will be served 'All You Can Eat' style in the Main Dining Room of Nicholson Commons. There is a fabulous choice of fresh salads, grilled items, hot entrees, and of course, desserts! And there's an equally fabulous ocean view from anywhere in the dining hall!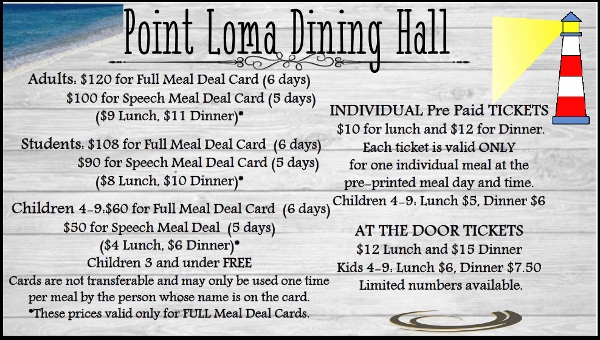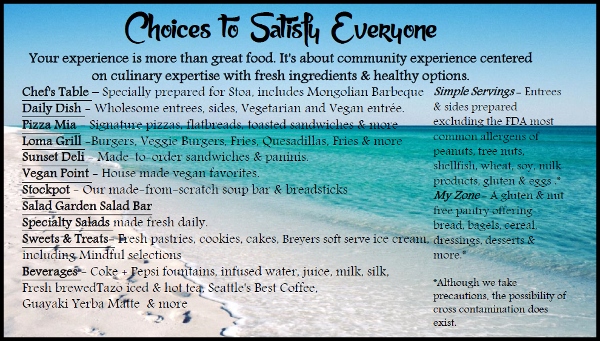 To order meals: During Student Registration, on Step 5 "Miscellaneous" you'll be given the opportunity to order meals. Please note:
~ The cafeteria will be open for lunch and dinner. Please check the tournament schedule for the specific meal times.
~ There are 5- and 6-Day Full Tournament options to serve those who are competing in speech-only or also in debate.
~ There is pricing for Adults, Student Competitors, and Children ages 4-9. Children 3 years old or younger are FREE.
~ Cards will be issued for those purchasing 5/6-Day Full Tournament Meals. The card is just one per person. Cards are not transferable and may only be used one time per meal by the person whose name is on the card.
~ Meals may be pre-ordered for individual days/meals, however the pricing per meal is higher than the full week deal. Also, there will be a very limited number of at-the-door purchases available. And the cost will be more.
Full Week Meal Plan:
Adults: $120 for Full Meal Deal Card (Monday-Saturday)
$100 for Speech Meal Deal Card (Tuesday-Saturday)
Students: $108 for Full Meal Deal Card (Monday-Saturday)
$90 for Speech Meal Deal Card (Tuesday-Saturday)
Children 4–9: $60 for Full Meal Deal Card (Monday-Saturday)
$50 for Speech Meal Deal (Tuesday-Saturday)
Pre-Ordered Individual Meals:
$10 Lunch
$12 Dinner
At-the-Door Purchases:
$12 Lunch
$15 Dinner
On-Campus Coffee Shop
The University has graciously arranged to have the on-campus coffee shop, located on the Lower Level of Nicholson Commons, open for us during the tournament! Bobby B's Coffee Company (with Starbucks coffees, Tazo teas, Frapuccinos, and pastries) will also have some of the items from the Breakers mini-mart (snacks, candy bars, chips, etc.) available for purchase.
* * *
Bobby B's
Monday-Saturday, May 28-June 2, 2018
Monday: 9AM - 4PM
Tuesday thru Saturday: 7AM - 4PM
* * *